Choosing a WordPress theme for
New Project?

Online Store?

Client's Website?

Landing Page?

Creative Portfolio?

Personal Blog?
The7 is the most customizable WordPress theme available on the market up to date. It gives you creative freedom that no other theme can match. No matter if you are a beginner or a pro, website owner, creative professional, or a digital agency – The7 offers tremendous power and unparalleled value to everyone.
Full Support for Elementor
The world's leading WordPress page builder
Elementor took the WordPress community by storm and quickly became the most popular page builder for WP. Compared to the proprietary page builders found in some other top-selling themes, it has at least 10 times bigger user base. Therefore it is better tested. And the developer community is way bigger.
But why is it important to you? Because compared to other page builders and themes, Elementor is more reliable and secure. Also, the add-ons ecosystem is much better developed. So there's a higher chance to find that specific feature you're looking for!
Post types, elements for page builders, WooCommerce and other popular plugins integration
The7 Elements is a multi-feature plugin-companion for The7 theme. It adds a ton of new elements and features to Elementor and WPBakery Page Builder, new post types, and also enhances and extends WooCommerce and other select plugins.
Advanced integration with Elementor Pro Theme Builder allows the customization of places usually inaccessible with regular theme controls. What's more, you can add different headers, footers, page titles, and templates to different pages. Create your own:
Ever needed to add a portfolio to an agency website? Or maybe you are building a photography site, and want to showcase a large number of photos all neatly organized into albums? And how about a "team" section of a corporate portal? The7 Elements has tools for that, and more:
Elementor Pro and
PRO Elements Integration
The7 Elements integrates seamlessly both with Elementor Pro and its free alternative PRO Elements. Giving you pro-level tools for marketing, lead generation, and dynamic content styling. No need to install bulky third-party add-ons or plugins. Pro features include (but not limited to):
Full support for WPBakery Page Builder & Ultimate Addons
WPBakery (formerly Visual Composer) is the first commercially successful and one of the most popular page builders on the market. The7 was released with WPB support from day one. And has become the most popular premium theme for this page builder on the market!
The most popular theme for WPBakery Page Builder
The7 supports WPBakery Page Builder and Ultimate Addons natively. And over the years, it has become the number one choice and the most popular premium theme for this builder.
The7 Elements extends the WPB even further with 7 post types, 50+ exclusive shortcodes, and many features that cannot be found in any other add-on.
Ultimate Addons is the most popular premium add-on plugin for the WPBakery Page Builder. It adds a ridiculous amount of shortcodes, settings, and features to the builder. Comes standard with The7.
If you can dream it, The7 will help you build it!
Theme Options is the crown jewel of The7. Other themes can boast of thousands of options, but none can match the customization potential of The7. Combine it with a bit of creativity, and no one will ever know that your website is built on a multipurpose theme!
Integration with Page Builders
The7 is fully integrated with Elementor and WPBakery Page Builder. Change a setting in the Theme Options, and it will propagate across the entire website.
Integration with Popular Plugins
The7 generates dedicated styles for many popular plugins. We also made sure that the theme is plugin-friendly in general, so they fit your website perfectly.
Work smart. Save time. Set up only a few basic settings in the Wizard,  and The7 will algorithmically figure out the rest. It takes only minutes and is the perfect way to prototype design. 
WooCommerce is the most popular eCommerce software on the planet. You can create catalogs, sell physical goods, services, subscriptions, software, curses, and everything in between. WooCommerce is powerful, easy to use, and free. In other words, a perfect choice for your online store! And The7 takes it on a whole new level.
The7 features the dedicated Theme Options screen for numerous WooCommerce settings. Not only can you customize the appearance of products, lists, widgets, and shortcodes, but also cart, checkout, and other WooCommerce pages.
WooCommerce Theme Builder
Make your store unique. Build bespoke templates for WooCommerce product pages and lists with Elementor. Apply them to all products or use selective display credentials.
Product Widgets and Shortcodes
How about displaying select products from different categories on the homepage (or other pages)? Maybe a product grid? Or a fancy looking carousel? The7 has elements both for Elementor and WPB to do just that!
Use prebuilt websites to boost your productivity
Installing a prebuilt website (demo) is an excellent way to kick-start work on a project. Import a demo that suits you the best. Add pages or features from other demos to the flavor. All that's left is to populate the site with your content and images.
Install or remove a prebuilt website in one click!
The7 offers one-click installation and uninstallation of plugins, sliders, theme options, menus, and content.
Mix and match content and features from different demos. Easily convert a one-page demo into a multipage site or a store. And vice versa.
Copy a link (URL) from one of The7 demos and click "import". The7 will automatically install the page along with the required plugins, sliders, forms, etc.
Easy to install and customize
The7 comes with 60+ prebuilt dummy websites complete with exclusive templates for Slider Revolution, Elementor and WPBakery Page Builder. Import them in a single click. Mix, match, change. Create a perfect foundation for your new website in minutes!
"There's a feature for that"
The7 comes loaded with tons of cool stuff. Both that you expect to find in any modern multipurpose theme, and that is unique to The7. So if you can think of something, it probably is already implemented in The7!
No recurring membership or
other hidden fees!
200 000+ purchases, 8000+ reviews.
Ongoing support with 6 months
of priority access.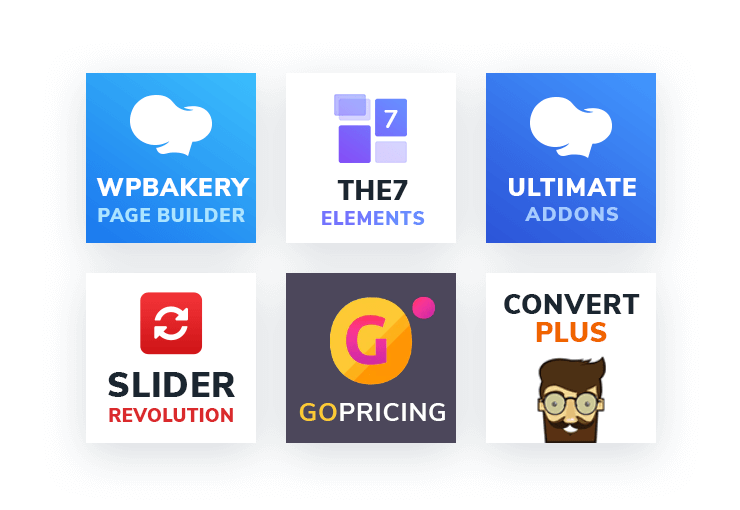 $174+ worth premium plugins included.
SEO-ready & mobile-friendly
Transform The7 into Your_Theme
in a few clicks.
Multilingual & translation ready
Already translated into 10+ languages!
Desktop & mobile headers, header builder.
Built in mega menu capabilities.
... but wait, there's more!
What are you waiting for?
Get your copy of The7 now!
© Copyright 2020 Dream-Theme. All rights reserved.